I used to know a guy who wasn't the best dresser. He didn't necessarily look bad but you never would have remembered what he wore. Then, one year, I began to notice that every time I saw him, he looked so sharp. I started to pay more attention to what he was wearing and I noticed that all his outfits followed a pretty simple formula. Crisp bottoms, contrasting shirts, coordinated belt/shoes and maybe a cool accessory here or there. Since then, I've noticed that every time I'm paging through a men's magazine, the same basic formula is used.
And if there is only one thing you take away from this post, remember that the number one rule of style is that your clothes should fit well. In fact, they should fit you perfectly. Even if you want to buy cheap clothes, get them tailored. From your mom if you have to. Pants should not bunch up at the bottoms. Shirts should not puff around your waist.
Also, under no circumstances should you ever wear pleated pants. Ever.
Once you have your template down, you have created the perfect base on which to go as crazy or as conservative as you want with your look.
1. Buy three slim fit dress shirts.

Get this shirt or a similar slim fit shirt in three colors.
 
  2. Get three pairs of versatile bottoms.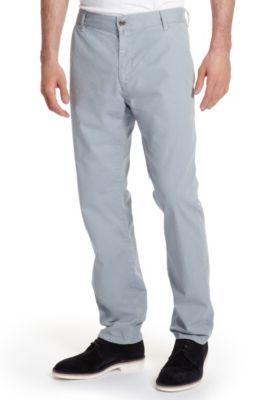 You'll need at least one pair of light or grey pants.

3. Get five t-shirts in different colors:
Prepare your guns to wear lots of t-shirts.
4. Get shoes that can multi-task.

These loafers can take you from running errands
to the beach to a get together.

These sandals or anything else not made of plastic are a great
substitute for flip flops.

5. Accessorize. Your personal style statement should come through the accessories you choose. Whether you go bold with suspenders or a bright scarf or choose understated elegance with a smart bag and sharp belt, this is where everything comes together.

If you are afraid of too much color, your belt is
a great place to sneak it in.
Get a vintage or vintage inspired watch like this one.
 
Get a bag you can throw all your stuff for the day.
Bulging pocketes can ruin your outfit.